Press release – December 7 2017
2017/054
Families affected by a still born birth at Hereford County Hospital are set to benefit after the launch of a major appeal to create a bereavement suite.
The Born Sleeping Appeal will help to fund a suite to give bereaved parents and their families a private sanctuary to use as they come to terms with the loss of their baby.
It will have an en-suite family room to allow partners to stay overnight and other family members to visit in a private setting, and a counselling room.
The new facility will be available to families who lose a baby to stay in after the birth for as long as they wish. 
The number of babies stillborn nationally last year was just over 3,000. 
"By creating the suite within the maternity department, we will be able to offer mothers a more comfortable environment," said lead midwife Helen Price. 
"Sadly, the death of a baby may sometimes occur during pregnancy or labour. Such a loss at any stage of pregnancy is devastating for both the mother and the families involved," added Helen. 
"This dedicated suite will provide families with a comfortable environment where they can receive the care and support they need at a time of great difficulty. 
"It will allow families to come to terms with their loss at their own pace with the acute pressures of being on a busy delivery suite."
A bereaved mother has told the Trust: "One of the hardest things was walking out of that maternity suite with nothing but my memory box. You're walking towards people that are coming in with balloons and new-borns and everyone's happy to go and see their babies. You look down holding your box, and you just want to have a fireman's pole to get out of there as quickly as you can." 
Helen added: "This suite, away from the main delivery area and maternity ward, will give those affected by a stillborn birth the privacy and calm surroundings they need to come to terms with their loss. 
"It will make a huge difference and we're hoping that local people will help support the campaign." 
People wanting to donate can do so in a variety of ways: visit https://www.justgiving.com/campaigns/charity/wyevalleynhstrust/bornsleeping17
or text BABY26 and your amount to 70700.
The Trust is also working together with Powys SANDS, the local branch of the National SANDS Charity, and Rocky Lee's Little Feet charity, to improve the facilities available at the hospital for bereaved parents.  Powys SANDS has supported the Trust with funding and memory boxes.  Rocky Lee's Little Feet charity has enabled the Trust to refurbish a delivery room that is currently used for stillborn birth deliveries and also created the Snowdrop counselling room on the unit.
If you would like to organise your own fundraising event or for further information, please call Katie Farmer at the County Hospital on 01432 364078 or email fundraising@wvt.nhs.uk
Pic caption: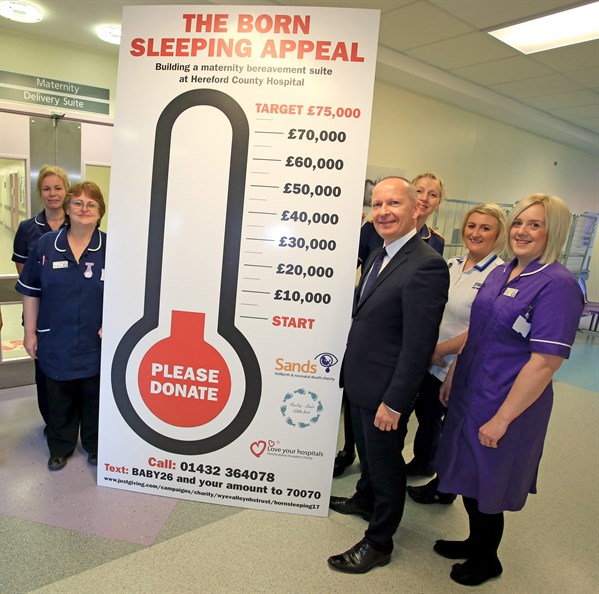 WVT chief executive, front, is pictured with staff from the maternity department at Hereford County Hospital, including Helen Price, pictured third from the right, at the launch of the Born Sleeping Appeal. 
Note to editors:
Wye Valley NHS Trust is a provider health services across Herefordshire and beyond.
The Trust exists to improve the wellbeing, independence and health of the people we serve. We are the leading provider of health care in Herefordshire.
By working closely with our partners, we can make good our promise to deliver a quality of care we would want for ourselves, our families and our friends.
With an estimated annual turnover of around £180 million, we employ around 2,700 plus staff. We aim to build new relationships between our staff, patients, service users and their carers with the wider community.
For further information please contact:
John Burnett, Communication and Engagement Manager, Wye Valley NHS Trust: 01432 372928 or Katie Farmer, Fundraiser 01432 364078