Hearing aids
Information leaflets/booklets that may be given to Parents/Carers and patients are as follows:
BAHA - information about bone anchored hearing aids
Congenital Cytomegalovirus and deafness
Cochlear Implants - NDCS
Deaf children with additional needs - NDCS
Radio Aids - NDCS
Hearing Aid Instruction Leaflets - NHS
A school screening service is offered to all children during year 1 at primary school.
Children will not be tested unless there has been consent obtained from the Parent/Carer of the child (this is obtained on the school entry child health form).
If consent is given each child is seen in their own school.
A hearing screen is performed with headphones and tympanometry (looks at the mobility of the ear drum) is also undertaken.
If the child passes - no further action is required.
If the child does not meet the pass criteria they may be retested again in school at a later date or referred onto the Children's Hearing Centre for further testing.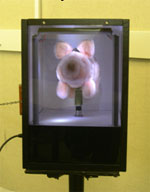 Visual re-inforcers used to test children between 18 months and 3 ½ years old