Mr Chris Paliobeis
Mr Chris Paliobeis, MD, FRCS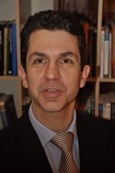 Consultant Orthopaedic and Trauma Surgeon.
Special Interests: Hip Surgery, Hip and Groin Problems in the Young Adult, Knee Surgery, Trauma Surgery and Musculoskeletal Oncology
Qualifications
Mr Paliobeis is a Consultant Orthopaedic Surgeon who moved to Herefordshire in January 2012 when he joined the orthopaedic team at the County Hospital. His specialist interest lies in trauma, knee and hip conditions. In particular he specialises in the treatment of young adults with a hip problem.
Mr Paliobeis has experience as a consultant orthopaedic surgeon since 2010, having worked at Addenbrooke's Hospital in Cambridge and the Royal Berkshire Hospital in Reading before coming to Hereford.
Mr Paliobeis has extensive experience in general orthopaedics and has also undertaken distinguished fellowships in Trauma (AO Foundation - Leeds General Infirmary), Musculoskeletal Oncology (Royal Orthopaedic Hospital, Birmingham), Knee Surgery (York Hospital) and Hip Surgery / Hip Arthroscopy (Richard Villar Practice, Wellington Hospital, London).
Outpatient Services
| | | |
| --- | --- | --- |
| Clinic | Day | Location |
| Hip Clinic & General Orthopaedics | Thursday AM | The County Hospital |
| Knee Clinic & General Orthopaedics | Thursday PM | The County Hospital |
| Fracture Clinic | Wednesday PM | The County Hospital |
Inpatient and Day Case Services
Mr Paliobeis and his team operate all day Friday.
Conditions Treated

Procedures Performed

Young Adult with a Hip Condition

Hip Arthroscopy

Periarticular Hip Endoscopy

F.A.I. Surgery

Osteoarthritis Hip

Total Hip Replacement

Osteoarthritis Knee

Total Knee replacement
Unicompartmental Knee replacement

Rheumatoid arthritis

Joint Replacement

Sports Injury of the Knee

Knee arthroscopy

Trauma

Arthroscopic surgery and Bone fixation

Bone and soft tissue tumours

Various