In Patients
Coronavirus - For the latest information on visiting arrangements, elective operations and outpatient appointment changes and what you need to do when attending appointments, and our 'thinking of you' letter service for inpatients please click here. This includes face masks for inpatients and COVID-19 swabbing for inpatients
We want to make your stay in hospital as comfortable as possible. We aim to provide a quality of care we would want for ourselves, our family and our friends.
Privacy & dignity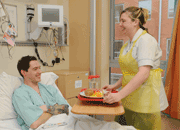 We are committed to the delivery of high quality services, affording our patients the same privacy, dignity, respect and compassion that we would want for ourselves, our family and friends. Find out about patient privacy and dignity at our hospitals.
Preparing for your stay in hospital
A patient information booklet is available by clicking
here for you to read to help you prepare for your stay in hospital.  This information will also be available for you at your bedside if you are staying overnight in one of our hospitals.
What to bring with you
We have provided a list of items that you need to bring with you for your stay in hospital. Find out what to bring with you to hospital.
What to do when you arrive at hospital
Please go straight to the ward/department indicated on your admission letter. If you unsure of how to find the department/ward please ask staff at the main reception (main entrance of the hospital).
It is important that you arrive in plenty of time for your appointment. If you are delayed for any reason we ask that you telephone the relevant ward/department direct.
Hand hygiene
All our staff actively promote the 'Clean your hands' campaign as an important way of controlling infection. Alcohol hand gel is available at the end of every patient bed and we encourage patients to ask staff whether they have cleaned their hands. Find out more about infection control at our hospitals.
Hospital at home 
The hospital at home team comprises of qualified nurses, support workers, physiotherapists and occupational therapists. We work closely with acute and community hospitals to provide an early supported discharge service, and GPs to prevent hospital admissions. Services include intravenous antibiotics; support calls on a short term basis whilst waiting for the appropriate services; monitoring of conditions; and therapy input to meet any urgent needs. We work closely with district nurses, neighbourhood team therapists, social services  and the hospice at home team.  Our aim is to provide a high quality of care to enable people to live independently in their own home.
Friends and Family Test
The Friends and Family Test is a simple question that patients are asked about the care they have received.  The test is part of a  way of gathering patient feedback and driving improvement in NHS hospital services across the country. To find out more about the Friends and Family Test click here.
Dementia care
There are currently 800,000 people diagnosed with dementia in the United Kingdom.  Every day in an acute hospital approximately 60 to 65 percent of inpatients will be suffering with dementia, confusion and/or delirium.
At this Trust, we have a skilled multidisciplinary team who aim to improve the care and experience for both patients and carers. 
We have a number of initiatives in place to raise awareness amongst our staff of the signs and symptoms of dementia so that we can provide the best possible care for our patients. To find out more visit our dementia care page.
Looking after your personal property
We make every effort to ensure your belongings are safe and secure whilst you are in hospital. However, you are advised to bring only essential items into hospital as these are not insured under any hospital policy and will remain your own responsibility if they are lost.
Patient dining
We aim to provide appetizing and nourishing meals and you will generally have several choices from a menu for all your meals. Meal times and menus may vary and details of local ward arrangements will be given to you on the ward.
If you have any special requirements, please tell the ward staff. Sometimes, because of an operation or as part of your treatment, you will not be allowed to eat or drink. Your nurse will explain this to you.
We try to protect meal times to ensure you are undisturbed and given time to eat your meals. This includes asking friends and relatives not to visit at meal times, as although you may not mind, other patients may object.
Telephone and mobile phones
The County Hospital offers the very latest Hospedia Bedside System, known as T3, which provides a personal phone for every inpatient. There is a charge to access the bedside system and with this patients can make unlimited outbound calls at no extra charge.
It also provides a wide variety of TV channels, video on demand, email, internet, and radio - all accessed via a wide range of short and long stay bundle packages.
With an easy to use touch screen interface, patients have the benefit of a dedicated TV and phone right at their bedside.
Mobile telephones are only permitted in the main corridors of the hospital, as the use of these may interfere with medical equipment. If mobile phones are brought into hospital, please ensure that they are switched off when entering a ward of clinical area.
Public payphones are available for outgoing calls and these are located near the main reception. These telephones cannot receive incoming calls nor can they take phone cards. We do supply a limited number of public payphones to use from wheelchairs. Please ask the ward staff where the nearest one is situated.
Hospital radio
The County Hospital Radio can be found on Channel 5. This is your Radio Station and broadcasts 24 hours a day with a wide selection of music, information, local and national news all presented by a small team of local volunteers.
These volunteers are found most evenings collecting your requests from the wards, and then present their programmes from our Studios at The County Hospital. If you would like a request please call on our request line 01432 364049.
Interpretation and translation services
Interpretation services are available on request. Please ask the ward sister or enquire with PALS based at the main reception.
Patient advice – We are here to help
The Patient Advice and Liaison Service (PALS) provides advice, help and support to patients, families, carers and visitors.