Hospital Facilities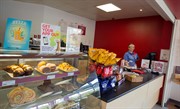 Costa Coffee Shop

Costa Coffee Shop is currently closed due to coronavirus prevention measures.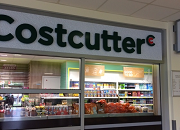 Costcutter shop
Costcutter branded shop is situated on the left as you enter the hospital through the main entrance. 
It is open 07:00 to 20:00 Monday to Friday and 08:00 to 17:30 at weekends and on Public Holidays.  
CostCutter is accepting card and cash payment, with no cash back available.
The shop offers a large variety of groceries, the provision of pastries and cakes alongside hot beverages, newspapers and magazines and gifts.
Vending machines which accept both cash and card payment are available on the ground floor for public use.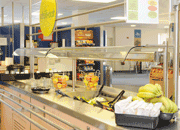 Spires Restaurant - is currently closed to patients and visitors
Spires is open to staff only at the present time.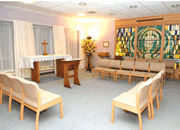 The Chapel
The Hospital Chaplaincy Team is committed to providing pastoral and religious support to patients, their families and staff, promoting all that makes for well being within the health care provided by Wye Valley NHS Trust.
The Chapel is open for visitors 24 hours a day.
To contact the Chaplain please ask a member of ward staff or telephone the Hospital switchboard on 01432 355444.
Interpretation and Translation Services
Interpretation services are available on request. Please ask the ward sister or enquire at the main reception.
Wheelchairs
Wheelchairs are available for use on the hospital site and are located just past main reception. You will need to put a pound coin in the slot to release the chair which will be returned to you when you put it back (rather like the supermarket trolley system). This ensures that chairs are always available for use by patients and not left around the hospital.
Vending machines: Hot and Cold Drinks
Vending machines offering hot and cold beverages as well as a selection of snacks and microwaveable meals are located in a number of areas throughout the hospital. 
Telephones
Mobile telephones are only permitted in the main corridors of the hospital, as the use of these may interfere with medical equipment. If mobile phones are brought into hospital, please ensure that they are switched OFF when entering a ward of clinical area.
A personal phone for each patient is included in the 'Patientline' entertainment system. Please ask the ward staff.
Public payphones are available for outgoing calls and these are located near the main reception. These telephones cannot receive incoming calls nor can they take phone cards. We do supply a limited number of public payphones to use from wheelchairs. Please ask the ward staff where the nearest one is situated.
Toilets
There are toilets for visitors on the main corridor of each floor.
Post box
There is a post box in main reception where post is collected twice a day. The last post is 5.30pm. If you are unable to get to the post box please tell the ward staff who will be able to help.