Events
Health & Wellbeing event for people with a Long Term Condition

We are delighted to invite you to our health and wellbeing event, being run with Macmillan Cancer Support, for people with long term conditions.  The event will take place on 10 September 2019. To find out more and book your place click here.  Click here to view the event poster.


Recruitment Events - join us and make a difference!

Come along to our NEXT community hospital and district nursing recruitment events on 18, 25 September and 2 October.
Are you Passionate about making a difference? Have you considered working as a Nurse, Community Nurse or working in a clinical support role? If so, we'd love to see you at our recruitment events on the following dates and locations.
18 September, 4pm to 7pm at Ross Community Hospital, Ross Community Hospital,    Ross, HR9 5AD
25 September, 4pm to 7pm, Bromyard Community Hospital, Bromyard, HR7 4QN
2 October, 4pm to 7pm, Leominster Community Hospital, Leominster, HR6 8JH
Your chance to meet staff, ask questions, have a guided tour, and find out how we can support you to meet your full potential.  There is no need to book a place. Simply just turn up during the event times.  However, if you would like to find out more call Tracey Ricketts, Locality Lead Nurse, on 01432 347685, or email tracey.ricketts@wvt.nhs.uk
Come along to our NEXT Nurse/Midwife Recruitment Event - 24th September 2019, 10am.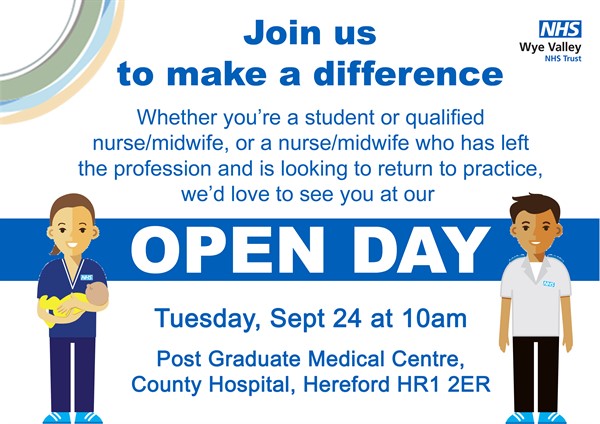 At our recruitment event you'll meet our passionate and committed teams who will be on hand to show you around the county hospital and will share with you the training and development opportunities available for staff as well as hear about the exciting developments that are taking shape at the hospital.
In return, we will give you a warm welcome, all the support you need to settle in and enjoy life at WVT while pursing your chosen career. 
To find out about applying for posts and our recruitment process or to BOOK a place at our next Recruitment Event  please call Charlene Abberley, Recruitment Team Leader, telephone 01432 383368 or email recruitment@wvt.nhs.uk.