The Hospital Charity: Muheza, Tanzania
The Hereford-Muheza Link Society (registered charity 1086887)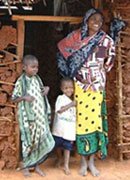 Links between Herefordshire and St Augustine's Hospital  Muheza
in north-eastern Tanzania began in 1985, and have continued
and strengthened each year.
The Hereford - Muheza Link Society has been a registered charity since 2002
For the past 20 years St Michael's Hospice Hereford has adopted Muheza Hospice Care as their sister hospice.
In 2021, Salisbury Hospital Wiltshire became part of a tripartite link.
The main activities are:
Arranging educational visits, between St Augustine's Hospital  and Hereford County Hospital and Salisbury Hospital assisting with education at St Augustine's. 
Assisiting with administrative and financial help for Muheza Hospice Care (MHC).
Education fund which supports post graduate degrees and diplomas for Muheza Staff.
Medical Students from all over the world spend a few weeks of their elective study and contribute towards this fund.
Visits
Each year we seek to facilitate visits each way for any person working in the Herefordshire health services, St Michael's Hospice, St Augustine's and MHC. 

Visitors from the UK will experience the rich culture of Tanzania and hopefully, will be able to offer something to Muheza, and also to Herefordshire on return.  UK visitors are self-funding.  
The society fully supports visitors from Muheza who are selected by a joint committee, with a planned program to gain experience in their specific field of work.
Muheza Hospice Care
This organisation founded in 2002 has helped to pioneer Palliative Care in Tanzania  It is entirely supported by voluntary donations, needing up to £40,000 annually. The Link Society acts as a conduit for these funds. Two 10 minute films made in 2017 and 2019 can be seen on these videos.
Muheza hospice care video
Young peoples outreach project Muheza video
Becoming a Member
The Link Society supports this work and holds a number of meetings each year – lectures, and talks by returned visitors. Membership is open to all and is £20 per year which can be gift aided. . Application forms are available from the Hon. Treasurer or Secretary. The Link Society warmly welcomes enquiries from anyone involved with health care who wishes to learn more about Muheza and about visiting St Augustine's Hospital.