The Hospital Charity: Muheza, Tanzania
The Hereford-Muheza Link Society (registered charity 1086887)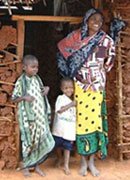 Links between Herefordshire and The Muheza Hospital in north-eastern Tanzania began in 1985, and have continued and strengthened each year.
The Hereford - Muheza Link Society is now a registered membership charity.
The four main activities are sending shipping with donated goods, arranging educational visits, assisting with education at Muheza, and by providing administrative help for Muheza Hospice Care.
Containers
One or two shipping containers are sent to Hospitali Teule in Muheza each year. These contain donated goods, many of which are otherwise destined for destruction. Examples have been X-Ray boxes, which are now far less used in the Uk and surplus beds from when the General Hospital closed.
Items which need re-sterilising, but which are cheaper in the UK to buy new, and things like crutches or Zimmer Frames, which here are only provided new but can be used again in Tanzania. The containers also include some goods for other health links, and school or agricultural links between places in Herefordshire or Shropshire and north-eastern Tanzania.
Visits
Each year we seek to arrange four visits each way of between four and six weeks. Any person working in the Herefordshire health services is eligible to apply to visit Muheza. The intention is that successful candidates going to Muheza will learn from their visits, will be able to offer something to Muheza, and also to Herefordshire on return. We welcome visitors from Muheza and try to make their visits worthwhile.
Education
There is a Link Education Fund. At present it is supporting two medical students training in Tanzania and is about to support the training of Nurse Tutors for the School of Nursing in Muheza.
Muheza Hospice Care
This organisation has helped to pioneer Palliative Care in Tanzania and began to deliver anti-retroviral treatment to patients with HIV and AIDS. It has been generously supported by the Diana, Princess of Wales Memorial Fund and the Elton John Foundation. The Link Society acts as a conduit for these funds. (See essay in website which won First Prize in 2007 from THET competition.)
Becoming a Member
The Link Society supports this work and holds a number of meetings each year – lectures, garden parties and talks by returned visitors. Membership is open to all and is £20 per year. Application forms are available from the Hon. Treasurer or Secretary. The Link Society warmly welcomes enquiries from anyone involved with health care who wishes to learn more about Muheza and about visiting Teule Hospital
Contacts: Society Officers
Chairman
Dr. John Wood
Dormington House
Dormington
Hereford
HR1 4ES
Tel: 01432 850543                   
john.batt.wood@gmail.com
Hon. Treasurer
Mr. Kieran Lappin
Graphic House
Ridge Hill
Hereford
HR2 8AG
Hon. Secretary
Elly Ecroyd
Lyvers Ocle
Ocle Pychard
Hereford
HR1 3QH
Hospitali Teule Muheza
Email: office@teule.or.tz