Events
---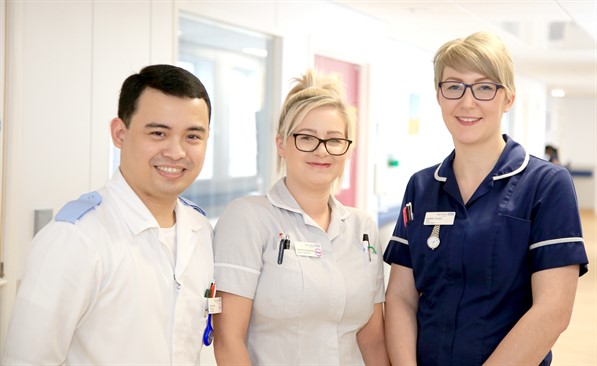 Wye Valley NHS Trust open day for those interested in working as a nurse
29 June 2018, 11am, Post Graduate Medical Centre, Hereford County Hospital
Save the date, come to our Open Day to find out what it's like to join our fantastic team and help us make a difference.
A golden hello package is offered to new recruits
Wye Valley NHS Trust is to hold an open day event to give anyone considering a job as nurse a taste of what life at Hereford County Hospital is like.
The open day session will take place on 29 June 2018 at Hereford County Hospital and is open to qualified nurses who may have left the profession and are considering a return,  student nurses or nurses who are looking to persue their nursing career within Wye Valley NHS Trust.
We're offering new nursing staff posts in a number of areas, such as adult inpatient, theatres, emergency department, our special care baby unit, as well as looking for candidates to join our Bank staff.   

Registered Nurse or Newly Qualified Nurses
If you're looking for a change in your career, why not come and find out about our surgical rotational programme that will give you a taste of what it's like to work in different clinical areas, helping you decide which one is for you.
Qualifying in 2018?
When you join our team, we will offer you a comprehensive 12 month preceptorship programme which will guide and support you through making that transition from student to developing your practice further. You'll find out more about this programme at our Open Day, so please come along.
If you would like to be part of WVT, simply come on Friday 29 June, 11am. You'll meet our passionate and committed teams who will be on hand to show you around the county hospital and will share with you the training and development opportunities available for staff as well as hear about the exciting developments that are taking shape at the hospital.
In return, we will give you a warm welcome, all the support you need to settle in and enjoy life at WVT while pursing your chosen career. If you would like to apply we will be offering interviews on the day, just submit your application form in advance, specify which ward or area you are interested in and if you are successful you will even receive a verbal offer.
If you would like to find out more, please call Charlene Abberley, Recruitment Team Leader, on 01432 383368  or email charlene.abberley@wvt.nhs.uk  To find out about applying for posts and our recruitment process click this link.
@wvtrecruitment        @WyeValleyNHS