Current opportunities
---
At WVT our success is measured by the quality of the patient experience. When you join our team, you'll play a vital role in moving our organisation forward and maintaining our reputation for excellence in patient care.
What we offer
WVT offers a range of specialities and job roles, which means that you can spend your entire career here. Working in a lively and vibrant environment with new facilities and state-of-the-art medical technology, you can be confident you can develop your skills.
Delivering top-quality services depends on our ability to recruit and keep good staff. A vital part of this is that we support your career progression. We continually invest in learning and development opportunities that are tailored to individuals' needs.
Through our education and development centre, which is the UK's most advanced medical training and clinical teaching facility, we provide our staff at every level with the opportunity to learn and enhance their knowledge and skills.
We strive to create a healthy working environment, where teamwork is valued. Staff are encouraged to give and receive feedback, and to listen to and respect each other. However we know that life isn't all about work so we offer other benefits to help you maintain a work-life balance.  Please click the link below to access our full list of current vacancies.

 To find out about our vacancies click here
Want to make a difference? 
We have a number of exciting opportunities for experienced and newly qualified nurses, in urgent care - emergency department, midwifery, clinical assessment unit, theatres - community hospitals and elective specialities.  
Please visit our current opportunities link to find our more information.
Pharmacy vacancies
The use of medicines is the most common clinical intervention made by the NHS. The Pharmacy Department is recognised as the centre of expert knowledge within the Trust on the use of medicines.
Our aim is to ensure that our patients get the maximum benefit from the medicines they receive, and that medicines are managed safely within the organisation
We currently have a variety of fantastic job opportunites available:
Pharmacist - Women's & Children's Directorate
Specialist Clinical Pharmacist - Pre-Operative Assessment
Clinical Pharmacist - Respiratory
We will support your future development and encourage access to opportunities that arise.
We believe our staff are our most valuable asset and are prepared to give that little extra to ensure your job is both fulfilling and worthwhile while you help us to deliver the Trust's goals. If you are looking for new challenges within a supportive environment, this post is for you.
To find out more information on these roles, please contact Tony McConkey on 01432 364016 or visit our vacancies section.
Filipino Nurses celebrate exam success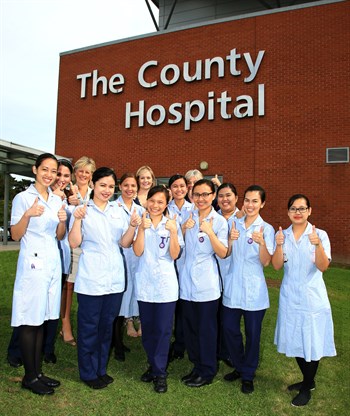 The first cohort of Filipino nurses who arrived at the Trust this year have successfully completed their Objective Structured Clinical Examinations (OSCEs) and are now registered with the Nursing and Midwifery Council (NMC) as registered nurses. Prior to arrival in the UK they completed a number of objectives in the Philippines before they were eligible to work at the Trust. Since their arrival, the nurses (pictured) have been supported to undertake a number of OSCE assessments at Northampton University. The OSCE assessments are based around a number of fundamental nursing skills and include; patient assessment and care planning, Aseptic Non Touch Technique (ANTT), and safe administration of medicines and Basic Life Support (BLS). The Trust's recruitment and education teams have worked collaboratively with the nurses and are delighted with what the nurses have achieved so far. They have worked very hard to prepare themselves for the OSCE assessment and the Trust congratulates them on their success. They are working within the medical and surgical acute areas within the hospital and have been warmly welcomed within the Trust.
Theatre vacancies 
With more than 100 staff to support the effective running of our theatres, we are always looking for new staff to join our teams. 

We have a variety of jobs for trained theatre staff and experienced nurses including scrub nurses, support workers, theatre and recovery nurses, team leader and senior nurse posts. 
We combine the opportunity to work with state-of-the-art equipment within a highly trained multi-disciplinary team, whilst enjoying the unique benefits of big city living with a country lifestyle in herefordshire and the surrounding areas.
Join us and we'll provide a supportive working environment, delivering high quality peri and post-operative care in a diverse and interesting theatre, and continuous professional development, including a varied caseload which will broaden your skills and experience.  to find out more call 01432 355444, ask for the theatre office, or email Alison.Anderson@wvt.nhs.uk or Ruth.Coulter@wvt.nhs.uk
Herefordshire Carers Support

Wye Valley NHS Trust works closely with Herefordshire Carers Support.  If you look after someone who cannot manage without your help please get in touch with them. Their friendly team  offers information and advice,  emotional support through one-to-one sessions and peer groups, training and information events access to complementary therapies and signposting to  various services that are relevant to you. Please Click here to find out more information on Herefordshire Carers Support