Apprenticeships
What is an Apprenticeship?
---
An apprenticeship is no longer focused on the ages 16-24 years old, it is now open to people of all ages with varied levels of previous qualifications and combines academic learning with work based practical application in a job through a work-based training programme.
You will be employed by the trust with a salary and the opportunity to gain qualifications whilst you work. Apprenticeship qualifications now range from level 2 to level 6/7 degree/masters.
Apprenticeships are no longer age restricted and in some cases can attract additional funding to support the learner. As long as you don't hold a qualification in the same subject and have the required qualification to apply you could be eligible to apply.
The Apprenticeship levy                    
In May 2017 the government introduced the new apprenticeship levy. This meant employers who earn over £3 million a year are taxed 0.5% of their PAYE bill each month which goes into a levy digital account fund. This can only be spent on apprenticeships training.
As a trust we pay the levy and are working towards the best way to utilize our digital account fund by ensuring we maximize the opportunities apprenticeship training can have for our staff and the Trust and ultimately our patients and services.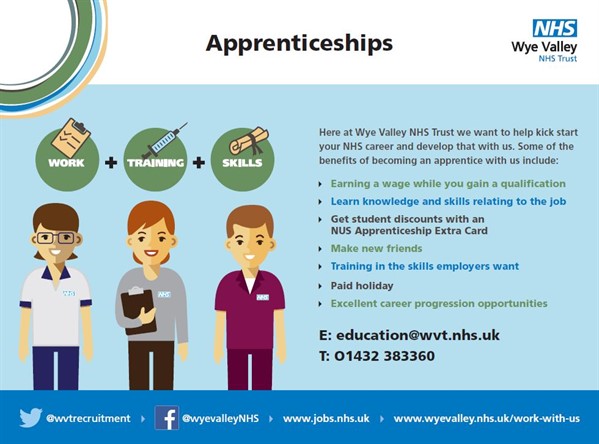 'Off the job' Training
When completing an apprenticeship standard you will be required to demonstrate 20% off the job training. How this works and the level of qualification will establish how you undertake this 20%. The time is calculated over the duration of your apprenticeship and anything new you learn in a class or that isn't part of your normal work activity can be seen as 'off the job'. This will mean for most people in the first few months of employment most of the skills you learn will be completely new and 'off the job'.
Why choose us?
Here at Wye Valley NHS Trust we want to help kick start your NHS career and develop that with us.  Some of the benefits of becoming an apprentice with us include:
Earning a wage whilst you gain a qualification
Learn knowledge and skills relating to the job
Get Student discounts with an NUS Apprenticeship Extra Card
Make new friends
Training in the skills employers want
Paid holiday
Excellent career progression opportunities
If you would like more information on becoming an apprentice please email or telephone us and the apprenticeship team will be happy to discuss anything with you.
Where can I find the apprenticeships you are advertising?
You can find all our career opportunities via the 'current opportunities' or visit NHS Jobs.
If you wish to discuss anything with our apprenticeship team regarding the posts please email us at education@wvt.nhs.uk