Physiotherapy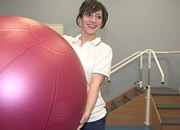 Physiotherapists identify and maximise movement potential through health promotion, preventative healthcare, treatment and rehabilitation.
Physiotherapy is an autonomous profession and practice is characterised by reflective behaviour and systematic clinical reasoning, both contributing to and underpinning a problem solving approach to patient centred care.
Your Physiotherapist will:
Assess current levels of function
Identify treatment aims 
Devise and offer a treatment plan 
Liaise with and signpost to other professions where necessary
Treat a wide spectrum of conditions including musculoskeletal, neurological, rheumatology, paediatrics, mental health, respiratory, palliative care and orthopaedic conditions, falls and vestibular
Pre-op leaflets for patients 
Links 
To access the website pages for the below Trust services click on the links provided below.
Herefordshire community falls prevention service
Community stroke service
Paediatric physiotherapy 
Contact Details
Direct line physiotherapy department County Hospital
(01432) 364026
Opening hours
8.30am to 4.30pm
Head of service
Jo Burns (clinical manager inpatient and community services)
01432 372995
Lead physiotherapist - Outpatients
Glen Hawkyard
01432 364026
Team leader – orthopaedic wards
Lynne Davis
01432 364026
Team leader - medical and surgical wards
Hannah Hayler
Philippa Leishman
01432 364026

MSK physiotherapy service manager
Kevin Bowers
01432 347644

Lead physiotherapist – Outpatients
Claire Williams                
01432 364026