Equality Performance
Monitoring Data
A key priority, in line with our public sector duty, is to collect and publish data that can help us work together to improve our employment practices and services for all communities (Ethnicity, Age, Gender, Sexual Orientation, Religion & Belief, Disability, Marriage and Civil Partnership, Gender Re-assignment, Pregnancy and Maternity).
Gender Pay Gap
If you require Gender Pay Gap data from previous years that is not available on this website page please contact our communications team
Workforce Race Equality Standard (WRES)
From 1 April 2015, all NHS organisations are required to demonstrate through the nine point Workforce Race Equality Standard (WRES) metric how they are addressing race equality issues in a range of staffing areas and develop an action plan to address any identified shortfalls, for review and monitoring through the Equality & Diversity Committee.

The Trust is using the recent report created by the Midlands Region, which compares data over the last five years and identifies a number of specific actions.
Workforce Disability Equality Standard (WDES)
The Workforce Disability Equality Standard (WDES) is mandated for all NHS Trusts and Foundation Trusts from April 2019. The WDES is based on a series of measures linked to the experience of disabled staff in the NHS. It comprises of ten metrics which are all drawn from existing data sources (recruitment dataset, ESR, NHS Staff Survey, HR data) with the 6 exception of one; metric 9b which asks for narrative evidence of actions taken, to be written into the WDES annual report.
Workforce Disability Equality Standard: 2021 data analysis report.
Equality Delivery System (EDS2)
The EDS2 is designed to support NHS organisations to provide services to patients that are personal, fair and diverse and to ensure that staff can thrive and hence deliver better health outcomes. The EDS2 is about making positive differences to healthy living and working lives. 
The Trust has adopted the EDS2 and has fully committed to its implementation. The EDS2 is intended to help organisations to start the analysis that is required by section 149 of the Equality Act 2010 (the public sector equality duty) in a way that promotes localism. It also helps deliver the core principles and values of the NHS Constitution and supports the Trust to meet the Care Quality Commission's (CQC) 'Fundamental Standards of Care'.
The EDS2 is a tool for NHS organisations – in partnership with patients, the public, staff and staff-side organisations - to use to review their equality performance and to identify future priorities and actions.

While the EDS2 can help inform the decision-making process, it is important to ensure that it is only used as a tool to assist with evidence gathering and evaluation as part of the decision-making process. Of itself, it does not satisfy the Public Sector Equality Duty. In every case, organisations need to ensure that the decisions they make are in accordance with the requirements of public law. It should be implemented within a culture that already recognises the equality challenges it faces, is ready to engage with patients, communities and staff, and has the resolve to move forward positively. 
At the heart of the EDS2 is a set of 18 outcomes grouped into four goals. These outcomes focus on the issues of most concern to patients, carers, communities, NHS staff and Boards. It is against these outcomes that performance is analysed, graded and action determined. The four EDS2 goals are: 
Better health outcomes for all
Improved patient access and experience
Empowered, engaged and included staff
Inclusive leadership at all levels.
| | |
| --- | --- |
| Better Health Outcomes: | Grade |
| Services have been commissioned, procured, designed and delivered to meet the health needs of the local communities. | Developing |
| Individual people's health needs are assessed and met in appropriate and effective ways. | developing |
| Transitions from one service to another, for people on care pathways, are made smoothly with everyone well-informed. | developing |
| When people use the Trust, their safety is prioritised and they are free from mistakes, mistreatment and abuse. | developing |
| Screening, vaccination and other health promotion services reach and benefit all local communities. | developing |
| | |
| --- | --- |
| Improved patient access and experience: | Grade |
| People/ carers and communities can readily access hospital, community health or primary care services and should not be denied access on unreasonable grounds. | developing |
| People are informed and supported to be as involved as they wish to be in decisions about their care. | developing |
| People report positive experiences of the Trust. | achieving   |
| People's complaints about services are handled respectfully and efficiently. | developing |
| | |
| --- | --- |
| A representative and supported workforce: | Grade |
| Fair recruitment and selection processes lead to a more representative workforce at all levels. | achieving    |
| The Trust is committed to equal pay for work of equal value and expects employers to use equal pay audits to help fulfil their legal obligations. | achieving   |
| Training and development opportunities are taken up and positively evaluated by all staff. | achieving   |
| When at work, staff are free from abuse, harassment, bullying and violence from any source. | developing |
| Flexible working options are available to all staff consistent with the needs of the service and the way people lead their lives. | achieving   |
| Staff report positive experiences of their membership of the workforce. | achieving   |
Inclusive leadership:

Grade

Boards and senior leaders routinely demonstrate their commitment to promoting equality within and beyond the Trust.

developing

Papers that come before the Board and other major Committees identify equality-related impacts including risks, and say how these risks are to be managed.

Under

developed

Middle managers and other line managers support their staff to work in culturally competent ways within a work environment free from discrimination.

developing

The EDS2 covers all those people with characteristics protected by the Equality Act 2010 and also disadvantaged groups i.e. those facing stigma and discrimination such as the homeless, sex workers or drug users.
If there is information that you require that is not availabel on this page in relation to the documents above please contact the Trust's communications team.
Equality & Diversity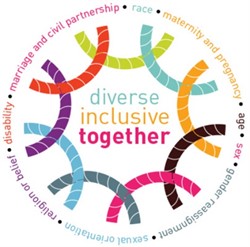 For more information
Please contact: