School Nursing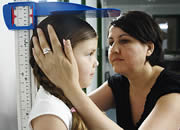 We aim to promote, protect the health of school-aged children and prevent ill health via a team of specialist practitioners, general nurses and nursery nurses.
This includes helping to improve children and young people's emotional wellbeing; physical activity and healthy eating behaviours; health outcomes in areas of deprivation; providing support for groups of children known to be more vulnerable; and readiness for school.
The School Nursing Service is underpinned by strong Public Health principles and by the principles used within Health Visiting with an emphasis on preventative interventions to promote child health and well-being as well as tackling inequalities. 
We will aim to enhance the quality of the life for you and your families by supporting you through stressful events that any family may experience. Support is particularly needed if caring for a child with a life limiting illness, or with disability and learning problems.
To find out more about this service call the number on the right hand side of this page.
Healthcare professionals only can access the service referral form by clicking here.  All referrals will be assessed within five working days of receipt. 
Click here to access the Health Visiting page.
Contacts
School Nursing
Vaughan Building
Ruckhall Lane
Belmont
Hereford
Herefordshire
HR2 7RP
Office Tel No: 01432 363940