Press release – issued 28 April 2023
2023/009
International nurses celebrate OSCE exam success at WVT
International nurses from Wye Valley NHS Trust are celebrating the successful completion of their OSCE exams that enables them to become registered nurses in the UK.
In the last four years, more than 290 international nurses have been supported through their OSCE exams and gained their NMC registration, allowing them to practice.   
The latest cohort of 81 international nurses were invited to attend a special evening ceremony this week at Hereford County Hospital to celebrate passing their OSCE exam, receive their certificate, and enjoy refreshments and cakes with their colleagues.
All of the international nurses, who are qualified nurses in their home country, are required to pass the Objective Structured Clinical Examination (OSCE), which is a nationally required assessment of competence, before they can be registered as a nurse in the UK.
Betsy Mary Thomas, international nurse at Wye Valley NHS Trust, said: "I have been in nursing roles for 18 years and travelling from the United Arab Emirates to this country is truly is one of my achievements.  The OSCE journey has been challenging at times, but I have been supported by a marvellous team of training facilitators. As a qualified nurse in the UK, I am now looking forward to progressing my career further, which has been my dream."
WVT's lead practice educator, Kate Hickin, along with the OSCE training team, runs a 12-week training programme that prepares the nurses for their OSCE exams.  Kate said: "We are absolutely delighted with the success of our international nurse programme over the last 12 months and the wide range of experiences nursing staff from around the world bring to Herefordshire.  These nurses have made a significant contribution to nursing care in our hospitals and we are keen to celebrate their achievements, so that they recognise how valued they are by the Trust and their patients."
Alongside this the nurses are supported in their clinical areas by their clinical teams and are additionally offered bespoke, individualised support through the Trust's pastoral officers – a key role in supporting the nurses during their transition here in the UK.  As well as supporting nurses who have recently arrived in the UK, the hospital's education team has also been supporting nurses from overseas who have worked as healthcare support workers in the Trust for some time. This has enabled the nurses to move from their support worker roles into registered positions.
Karen Miller, the Trust's head of resourcing, added: "We're looking forward to welcoming our next cohort of overseas nurses from April 2023.  Our recruitment, education and pastoral teams work closely together to ensure the nurses have a robust on-boarding experience and are fully supported throughout their transition in to the Trust.
"We have a further 30 nurses who will be taking the exam in the coming months and wish them every success."
Photograph

Celebrating at the OSCE event at Hereford County Hospital this week.

Left to right Kate Hicken - WVT lead practice educator, Betsy Mary Thomas – WVT international nurse, and Karen Miller- WVT head of resourcing.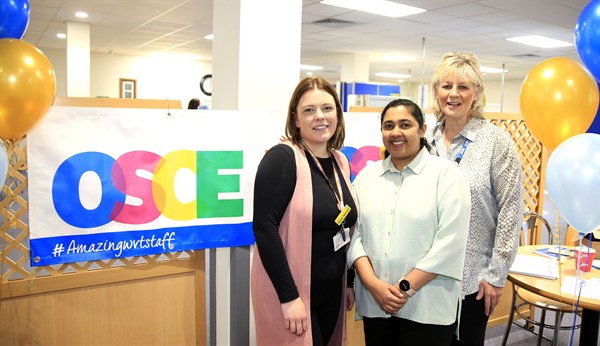 Ends
Notes to Editors WVT:
Wye Valley NHS Trust is a provider of health services across Herefordshire and beyond. The Trust exists to improve the wellbeing, independence and health of the people we serve.
By working closely with our partners, we can make good our promise to deliver a quality of care we would want for ourselves, our families and our friends.
With an estimated annual turnover of around £295 million, we employ around 3,000 staff. We aim to build new relationships between our staff, patients, service users and their carers with the wider community.
For further information please contact:
Fiona Gurney, communications officer, or John Burnett, Communication and Engagement Manager, Wye Valley NHS Trust: 01432 372928