Press release – issued 2 August 2023
2023/017
Join us at WVT Annual General Meeting and Staff Recognition celebration
Members of the public, patients, staff and volunteers are invited to attend Wye Valley NHS Trust's virtual Annual General Meeting (AGM) from the comfort of their own homes, which is taking place on Thursday 7 September at 6pm – streamed live. 
The virtual meeting will be streamed live and the meeting link made available on the Trust's website page www.wyevalley.nhs.uk/about-us/annual-general-meeting 
The Trust's Board will present an overview of the clinical and financial performance during the last twelve months, the draft annual report, and future plans.  This includes the new £23 million elective hub set to open next year and a new community diagnostic centre, which has been given the green light.  
The Trust will also celebrate and recognise the achievements of its amazing staff and volunteers and show a video of improvements and innovations healthcare staff have introduced to enhance the care and services provided for patients from Herefordshire and Powys. 
Russell Hardy, Chairman at Wye Valley NHS Trust, who will chair the meeting, said: "We're delighted to invite you to our AGM.  This is your opportunity to find out what's happening in your local hospitals and the Trust's community services, and find out about our performance in the last year, the improvements that we've made to our services and future plans. 
"We are immensely proud of our staff and volunteers and we look forward to thanking them for their tremendous efforts at the AGM, where we will present a short video of the improvements and innovations staff have introduced. This includes the early supported discharge service that is enabling respiratory patients to return home quickly, and our successful international nurse recruitment programme, which has received national recognition for the growing cohort of overseas nurses who choose to join our Trust. 
"We have invested in new technology and equipment to improve our diagnostic capabilities and implemented new ways of working to ensure that patients can receive care closer to home.  Alongside this, the new £23 million elective hub is rising up from the ground, which will offer patients quicker access to day case procedures when it opens next year, and we have the green light for a £16.5 million community diagnostic centre, which has the potential to bring many benefits to our patients. 
"In the climate emergency we are all facing, we are also pleased that we have been able to switch over to fossil free fuel green heating at some of our buildings, which marks our commitment to a greener future for Herefordshire." 
The agenda, minutes from last year's meeting, summary Annual Report and full draft Annual Report/Accounts will be available prior to the meeting on the Trust's website www.wyevalley.nhs.uk/about-us/annual-general-meeting 
If you would like to submit questions to the Trust Board, please email your questions by 5 September to Erica.hermon@wvt.nhs.uk  Supplementary questions can also be submitted up to 48 hours after the AGM has taken place.  There is no need to book a place, just join the meeting online on the 7 September, as detailed above.  However, if you would like to confirm your attendance or apologies please email fiona.gurney@wvt.nhs.uk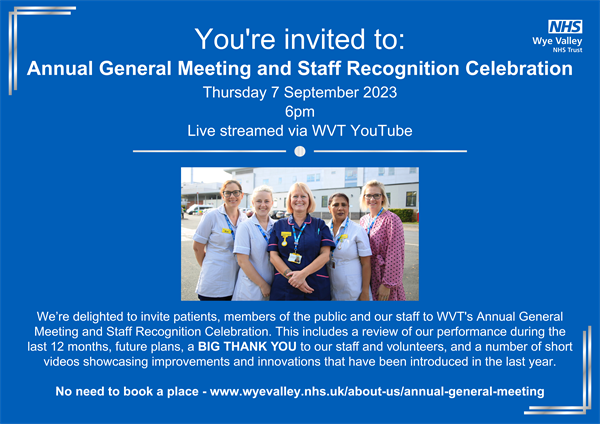 Ends 
Notes to Editors WVT:
Wye Valley NHS Trust is a provider of health services across Herefordshire and beyond. The Trust exists to improve the wellbeing, independence and health of the people we serve.
By working closely with our partners, we can make good our promise to deliver a quality of care we would want for ourselves, our families and our friends.
With an estimated annual turnover of around £295 million, we employ around 3,000 staff. We aim to build new relationships between our staff, patients, service users and their carers with the wider community.
For further information please contact:
Fiona Gurney, communications officer, or John Burnett, Communication and Engagement Manager, Wye Valley NHS Trust: 01432 372928